Striking Out Homelessness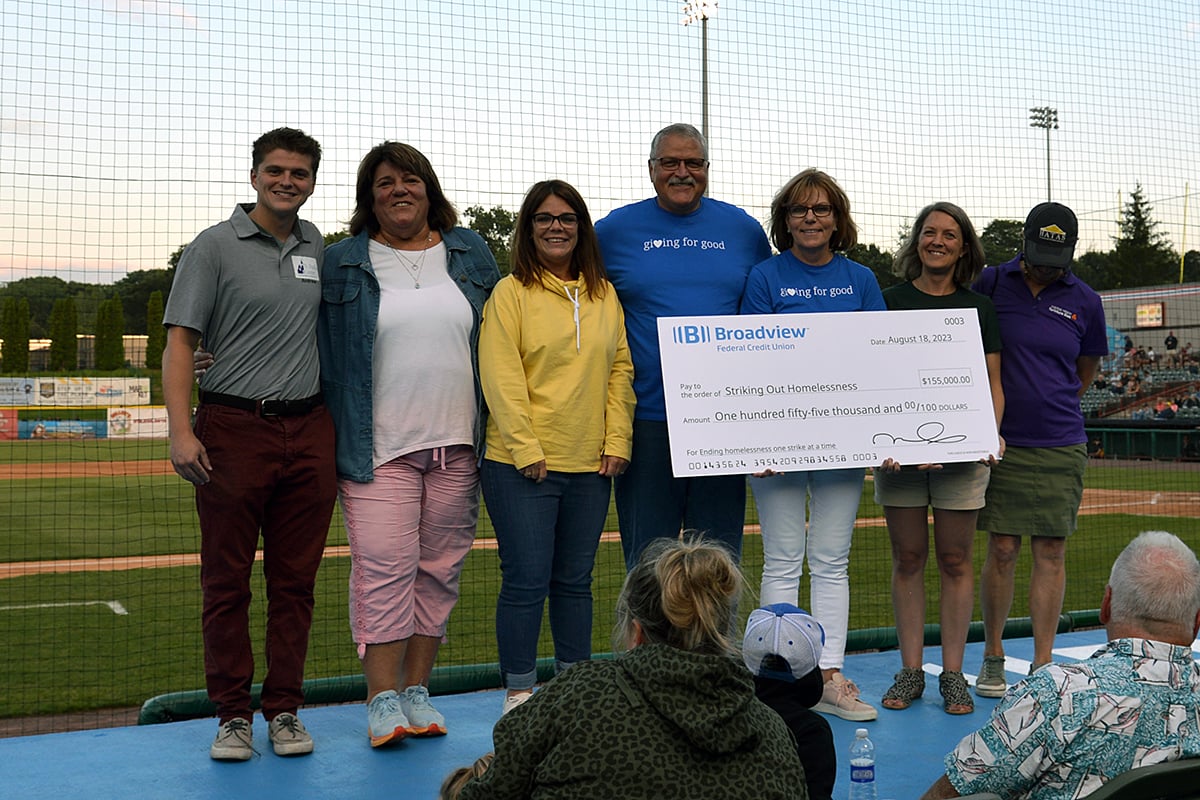 August 22, 2023
Amidst all the on-field excitement of Friday night's Tri-City ValleyCats game at the Joseph L. Bruno Stadium in Troy, Broadview Federal Credit Union announced financial investments to help strike out homelessness across the Capital Region.
In the middle of the third inning, Broadview Chief Operating Officer David Jurczynski and Chief Community Officer Kathy Lanni presented four local nonprofit organizations with donations totaling $155,000.
The ceremonial check presentation occurred on the "Broadview" dugout along the third base line. Jurczynski, Lanni, and representatives from each of the non-profit organizations listed below were in attendance.
The local organizations receiving Broadview funding are:
"Broadview is steadfast in its commitment to making positive changes in the communities we serve. Along with volunteering, we proudly provide financial support for non-profit organizations that are helping people during their greatest time of need," said Broadview CEO Michael Castellana. "The investments we are announcing on Friday night will help homeless individuals across our region gain the support they need to survive today and thrive tomorrow."
Broadview's funding will help these shelters and service organizations meet homeless peoples' basic needs while also offering programs and resources that will assist them in finding transitional housing and eventually establish permanent, affordable, and furnished homes.
Shelters of Saratoga Director of Development Rosemary Royce said her organization is grateful for the support and continued partnership Broadview has provided over the years.
"To have them help support people's transition out of homelessness and getting stable with housing has been incredible. We've had a project in the works with New York State in Saratoga County for four years now that we're about to break ground on," said Rosemary Royce Director of Development, Shelters of Saratoga. "It's going to be nine supportive units for formerly homeless individuals in Saratoga County, as well as a shelter expansion. Broadview is really helping us meet a need in Saratoga County which is incredible and we're very grateful for Broadview's support."
In addition to the in-game check presentation, as part of the "Broadview Night" festivities, Jurczynski threw out the ceremonial first pitch and hundreds of Broadview employees and their families were in attendance.
About Broadview Federal Credit Union
Broadview is among the largest credit unions in New York state with more than $8 billion in assets, more than 500,000 members, and more than 60 branches in the Capital Region, Binghamton, Syracuse, and Buffalo. Broadview was formed in 2022, when SEFCU and CAP COM merged, unlocking a unique opportunity to build on decades of service and expertise from both credit unions by creating a people-first organization with the scope, scale, and vision to carry that shared legacy proudly forward.