Regional Food Bank Receives Freight Farm from Broadview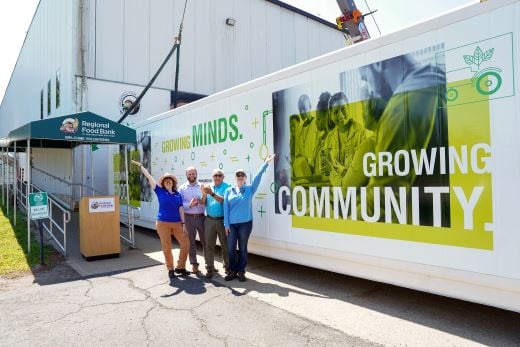 August 24, 2023
Press Release from Northeast Regional Foodbanks
Photo credit: Cindy Schultz, Editorial / Lifestyle Photographer
The Regional Food Bank of Northeastern New York installed a brand-new freight farm donated by Broadview Federal Credit Union today. The freight farm will provide the Food Bank with a consistent, year-round production of high-quality lettuce and other culturally relevant leafy greens - up to 900 heads per week. Fresh produce is one of the most highly desired categories throughout the Food Bank's network of partner agencies and currently accounts for 20% of its annual distribution.
"Hunger is a huge problem in the Capital Region and across northeastern New York. At Broadview, we take a holistic approach to fighting it. Along with providing financial support to food pantries, shelters, and missions, Broadview is proud to invest in Freight Farms like the one being delivered to the Food Bank today because they allow organizations to become more self-sufficient while feeding those in need," said Broadview CEO Michael Castellana. "This is the fourth Freight Farm Broadview has funded since 2018, and it is particularly special because through this farm, our neighbors in need will receive nutritious and culturally appropriate produce, which will not only fill their stomachs, but nourish their souls."
The Broadview fleet in our region also includes Freight Farms at the City Mission of Schenectady, the Boys and Girls Clubs of the Capital Area in Troy, and at the Broadview Operations Center on Patroon Creek Boulevard in Albany.
"The Regional Food Bank of Northeastern New York distributes 15 million pounds of produce each year through our 23-county service area. We acquire a vast amount from New York farmers, and we grow about 100,000 pounds on our farm in Voorheesville. We have a need for more and sourcing more fruits and vegetables is a key component of our strategic plan," said Regional Food Bank CEO Tom Nardacci. "Broadview Federal Credit Union is a thoughtful community partner and they understand what our neighbors in need want and need. This gift from Broadview will be truly transformational, allowing us to grow produce right at our Albany County distribution center 365 days a year and get it out to our neighbors in need within a day of harvest."
Produce grown in the freight farm will help the Food Bank expand newer programs like mobile pantries, which bring deliveries of food to parts of the 23-county service area that lack brick & mortar pantries and nearby grocery stores, and Just in Time deliveries, which bring perishable food like produce and dairy to pantries just prior to distribution, helping those agencies that lack storage capacity for those items.
The Food Bank will begin freight farm operations immediately and anticipates its first harvest will be ready in eight weeks.
About The Regional Food Bank of Northeastern New York
The Regional Food Bank of Northeastern New York is a 501(c)(3) not-for-profit organization that collects donated food from the food industry and distributes it to nearly 900 charitable agencies feeding the hungry in 23 counties of northeastern New York. The food provided by the Regional Food Bank helps to feed over 350,000 people each month. In 2022, the organization distributed 47 million pounds of food to the hungry. The Regional Food Bank is a member of Feeding America, the national network of food banks. The organization is supported by foundations, private contributions, and fundraising events. For information on services offered by the Regional Food Bank, call (518) 786-3691 or visit www.regionalfoodbank.net.
About Broadview Federal Credit Union
Broadview is among the largest credit unions in New York state with more than $8 billion in assets, more than 500,000 members, and more than 60 branches in the Capital Region, Binghamton, Syracuse, and Buffalo. Broadview was formed in 2022, when SEFCU and CAP COM merged, unlocking a unique opportunity to build on decades of service and expertise from both credit unions by creating a people-first organization with the scope, scale, and vision to carry that shared legacy proudly forward.