Broadview Announces Partnership with Buffalo Central Terminal & The Foundry to Replace Stolen Benches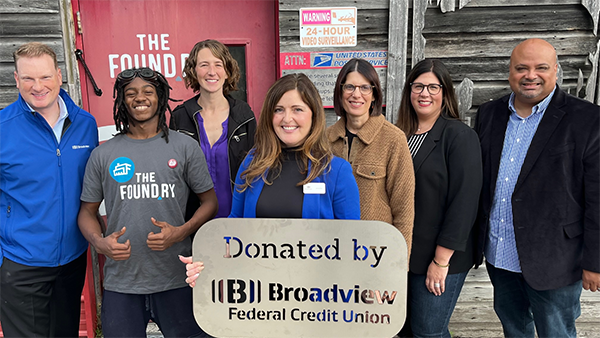 October 13, 2023
Broadview Federal Credit Union today announced a community donation that will cover the material and fabrication costs of custom-made benches to replace two that were stolen from the Buffalo Central Terminal's Great Lawn greenspace this summer.
The commitment will further support an ongoing and productive partnership between the Central Terminal and The Foundry, whose workforce and development program designed and built the original benches from scratch, and today agreed to take on the replacement project. The benches are expected to be finished by spring, when as part of the commitment, Broadview volunteers will also help with installation and greenspace clean up.
"Broadview has branches across the Buffalo area, including one just a couple of miles from here. We believe in this neighborhood and want to see it thrive. Helping to replace the Central Terminal's stolen benches is just the start," said Broadview CEO Michael Castellana. "Broadview is happy to support projects and forge partnerships that foster the tight bond of this community, where our members and employees live, work, and unwind."
Broadview Federal Credit Union has more than 500,000 members and 60 branches across New York State, including four in the Buffalo area. Along with providing financial products and services, Broadview prioritizes supporting the communities in its footprint through financial investments and volunteering.
"Broadview turned a sad moment into a joyful one, with their support for new 'Seat at the Table' benches and our shared belief in the power of community," said Central Terminal Restoration Corporation Executive Director Monica Pellegrino Faix. "Together with Broadview and The Foundry our friends and neighbors can once again enjoy taking a 'Seat at the Table'."
"Seat at the Table" was part of a larger initiative to increase utilization of the Terminal's Lawn for community events and programming. The Central Terminal is a proud recipient of a $40,000 Project for Public Spaces' Community Placemaking Grant.
"We are appreciative of Broadview's generous support, enabling our students to revitalize a crucial aspect of a community project that we worked so hard on last year," said The Foundry Executive Director Megan McNally. "The newly installed benches at the Central Terminal will stand as a testament to the strength of collaboration and the remarkable impact that can be achieved when community partners and our youth unite to create tangible, transformative change in our neighborhoods."
The original benches, tables and sculptural seating were made using steel and Massaranduba wood decking certified by the Forest Stewardship Council. They were dedicated in October 2022 as part of the successful 'Seat at the Table' campaign.
About Broadview Federal Credit Union
Broadview is among the largest Credit Unions in New York state with more than $8 billion in assets, more than 500,000 members, and more than 60 branches in the Capital Region, Binghamton, Syracuse, and Buffalo. Broadview is a people-first financial institution dedicated to providing best in class products and services to our members, empowering our employees, and strengthening our communities through investments and volunteerism.
About Buffalo Central Terminal
The Central Terminal Restoration Corp (CTRC) is a 501c3c non- profit organization driven by a mission to develop the Buffalo Central Terminal – a majestic historic landmark – as a lasting cultural and economic hub for the community. The CTRC has cared for this living landmark for more than 20 years. A prominent feature of Buffalo's East Side and the Broadway Fillmore neighborhood, the Buffalo Central Terminal is a singular catalytic opportunity to ignite a shared vision for a new future. The 2021 community-driven Master Plan re-establishes the Terminal as a vibrant local and regional destination—a beacon that attracts people and investment, celebrates and fosters community voice, and shapes broader equitable development. More information and photos can be found in the CTRC Media Kit here.
About The Foundry
Established in 2013, The Foundry uses an inclusive approach to advancing individuals through hands-on learning, entrepreneurship, and exposure to possibilities. The Foundry works with youth to explore various career paths, hands-on skill-building and new digital literacies by facilitating opportunities through in-school, afterschool, and workforce development programs.
The Foundry believes that creating opportunities necessary for self-sufficiency and economic stability promotes a healthier community and provides budding entrepreneurs from throughout the city with affordable rental space, connections to mentoring, business classes, and connections to local support services.
For more information visit https://www.thefoundrybuffalo.org/.