New Name for SEFCU Arena: The Broadview Center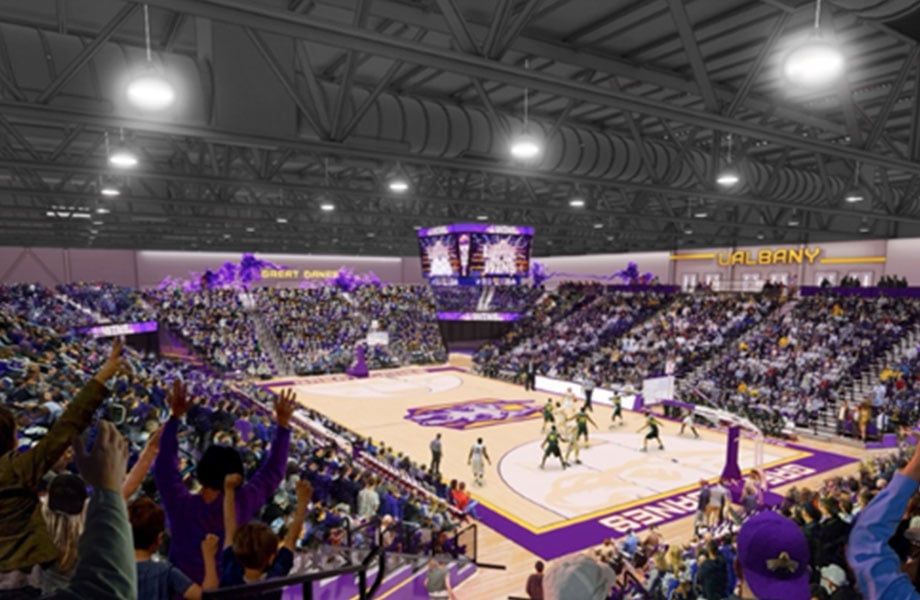 August 01, 2023
As part of Broadview Federal Credit Union's rebranding effort and the University at Albany's transformational renovation to its on-campus athletic facilities, the credit union and university are pleased to announce that SEFCU Arena will now be known as Broadview Center.
"We are thrilled to have the Broadview name attached to UAlbany's upgraded on-campus venue because it allows our organization to deepen its connection to the University and support the community at the same time," said Broadview CEO Michael Castellana. "Broadview is proud to offer on-campus banking services and support UAlbany's academic and athletic pursuits. Broadview Blue will look beautiful alongside 'Great Danes' Purple and Gold."
The Broadview Center has been a staple of UAlbany athletics since it opened as the Recreation and Convocation Center (RACC) in 1992. Over the past three decades, the building has hosted many memorable community events and exciting men's and women's basketball games.
Now, with a new name and through more than $12 million in renovations and upgrades that are scheduled to be completed this fall, the Broadview Center will provide the Capital Region with improved and immersive fan experiences and expanded community-based opportunities. It will also give the Great Danes a true home court advantage.
"We are excited to present a completely renovated arena to the community. When our fans walk through the doors into Broadview Center, they won't believe their eyes," said UAlbany Athletic Director, Mark Benson. "Our partnership with Broadview allows us to provide a first-class venue for our basketball programs, students and friends in addition to the many community-based events for all throughout the Capital Region."
While it will remain the home of men's and women's basketball, and host other exciting athletic events, thanks to the extensive improvements to the building, Broadview Center will also become a destination for educational programs and community events such as meetings, lectures, concerts, and youth sports.
Renovations to Broadview Center and the adjacent University Gym are scheduled for completion in November. Further details and a formal celebration of the improved venue will be coordinated at that time. Until then, visit UAlbany's "Building on Greatness" website for more information on the Broadview Center renovations.


About Broadview Federal Credit Union
Broadview is among the largest credit unions in New York state with more than $8 billion in assets, more than 500,000 members, and more than 60 branches in the Capital Region, Binghamton, Syracuse, and Buffalo. Broadview was formed in 2022, when SEFCU and CAP COM merged, unlocking a unique opportunity to build on decades of service and expertise from both credit unions by creating a people-first organization with the scope, scale, and vision to carry that shared legacy proudly forward.
About UAlbany Athletics
The University at Albany is a member of the America East Conference in 16 of 18 varsity sports, while women's golf is an associate member of the Metro Atlantic Athletic Conference (MAAC), and football, a Division I Football Championship Subdivision program, is an associate member of the Coastal Athletic Association (CAA). UAlbany has earned the Stuart P. Haskell Jr. Commissioner's Cup, which honors the America East's top-performing athletics department, eight times overall, including six-straight years from 2013-2018. UAlbany has won 127 conference championships and has made 59 NCAA Tournament appearances since moving to Division I in 1999.