Broadview to Donate $10,000 to FeedMore WNY Thanks to Buffalo Bills Playoff Run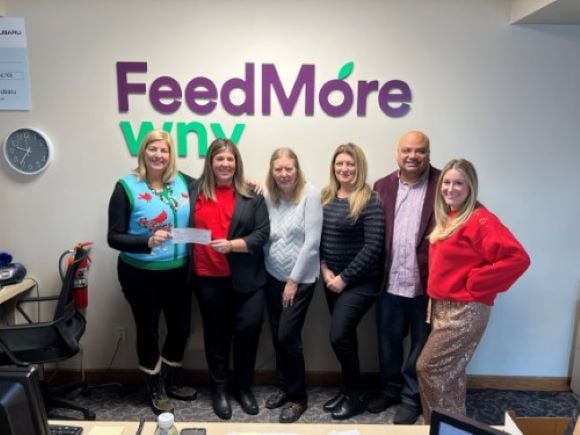 January 27, 2023
Over the past few seasons, the Buffalo Bills have captured the hearts of football fans in their hometown and across the country. Thanks to a donation by Broadview Federal Credit Union, Buffalo's playoff run will also help to fill the stomachs of people in Western New York.

Broadview will donate $10,000 to FeedMore WNY in honor of the Bills fantastic season and the number of points scored during their two playoff games this season.
"FeedMore WNY is deeply grateful for the continued support of our partners at Broadview Federal Credit Union. We loved cheering on the Buffalo Bills during their incredible season and postseason run. Now, with this wonderful donation from Broadview, we have another reason to celebrate. This donation will allow us to provide nutritious food to children, families and older adults facing food insecurity," said FeedMore WNY Executive Vice President of External Affairs Lisa Woodring.
FeedMore WNY feeds our homebound neighbors and supports people in need through nearly 300 pantries, soup kitchens, emergency shelters, and other hunger-relief agencies throughout Erie, Niagara, Cattaraugus, and Chautauqua counties.
Here's the breakdown of the donation:
The initiative started with the credit union donating $125 per point during the Wild Card round. When the Bills defeated the Miami Dolphins 34-31, Broadview donated $4,250 to FeedMore WNY.
Last week, Broadview stepped up once more, pledging to donate $250 per point for Buffalo's battle against the Cincinnati Bengals. Even though the Bills lost the game 27-10, they still earned another $2,500 for FeedMore WNY.
Based on points scored, the total donation to FeedMore WNY should have been $6,750. Broadview rounded up to make the total donation $10,000.
"We are certainly sad to see the Bills playoff run come to an end. Still, thanks to their success this year and a valiant playoff performance, this story has a happy ending. Through Broadview's donation and the incredible effort of people at FeedMore WNY, more people will have access to much needed food, and that's a big victory in the fight against hunger." Said Broadview CEO Michael Castellana.
This is the third straight year Broadview, the newly merged organization that was formed by the joining of SEFCU and CAP COM, is donating to FeedMore WNY based on the number of points the Bills score during their playoff run.
Over the past three NFL seasons, Broadview has donated a combined $45,000 to fight hunger in Western New York thanks to Buffalo's continued postseason success.
About Broadview Federal Credit Union
Broadview is among the largest credit unions in New York state with more than $8 billion in assets, more than 500,000 members, and more than 60 branches in the Capital Region, Binghamton, Syracuse, and Buffalo. Broadview was formed in 2022, when SEFCU and CAP COM merged, unlocking a unique opportunity to build on decades of service and expertise from both credit unions by creating a people-first organization with the scope, scale, and vision to carry that shared legacy proudly forward.