Upping Our Game: Broadview FCU to Donate $250 to FeedMore WNY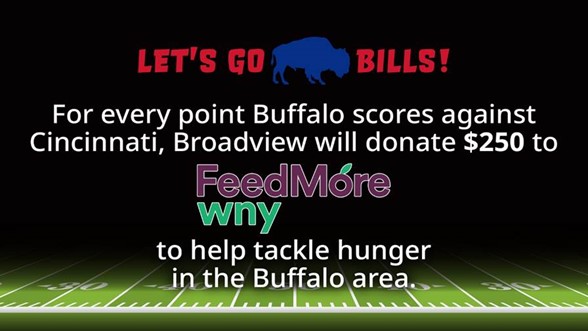 January 19, 2023
With their 34-31 win over the Miami Dolphins on Wild Card Weekend, the Buffalo Bills advanced in the NFL Playoffs and helped in the fight against hunger in Western New York.
Thanks to Buffalo's dominance, and Broadview's commitment to donate $125 per point scored, $4,250 will go to FeedMore WNY.
For the third consecutive year, Broadview Federal Credit Union is adding a little extra meaning to the Buffalo Bills playoff games.
For Sunday's showdown with the Bengals, Broadview is doubling down on its commitment and will donate $250 per point to FeedMore WNY.
"We are ecstatic that Broadview Federal Credit Union (formerly SEFCU) will once again support FeedMore WNY as the Buffalo Bills head to the playoffs," said FeedMore WNY Executive Vice President of External Affairs Lisa Woodring. "The generous support from the credit union will continue to help our neighbors in need. The donation will ensure that our communities' needs are met, and we are responding to the increased essential need for food assistance. Thank you, Broadview and Lets Go Bills!"
Through its food bank distribution center, partnerships with nearly 400 hunger-relief agencies, home-delivered meal programs, and other feeding programs, FeedMore WNY alleviates hunger and helps people of all ages throughout Cattaraugus, Chautauqua, Erie, and Niagara counties.
"Fighting hunger remains a top priority for Broadview, and there's no better way to do it than by supporting FeedMore WNY and jumping on the Buffalo Bills bandwagon. We have donated more than $35,000 to FeedMore WNY based on Buffalo's playoff scoring success the last two seasons, and we look forward to giving even more this year," said Broadview CEO Michael Castellana. "Of course, no matter who wins the game, the real winners are the individuals in need receive fresh, healthy food and access to meals thanks to FeedMore WNY."
This fun initiative continues Broadview's commitment to fighting hunger in the Buffalo area.
In 2021, SEFCU donated $20,000 to FeedMore WNY based on the Bills playoff point total. Last year SEFCU donated another $15,000.
This effort comes on the heels of Broadview's financial support of food pantries across upstate New York. Just last month, Broadview donated more than $500,000 to food pantries and shelters in the Albany, Buffalo, Binghamton, and Syracuse regions to help them meet immediate needs and plan for the future.
About Broadview Federal Credit Union
Broadview is among the largest credit unions in New York state with more than $8 billion in assets, more than 500,000 members, and more than 60 branches in the Capital Region, Binghamton, Syracuse, and Buffalo. Broadview was formed in 2022, when SEFCU and CAP COM merged, unlocking a unique opportunity to build on decades of service and expertise from both credit unions by creating a people-first organization with the scope, scale, and vision to carry that shared legacy proudly forward.