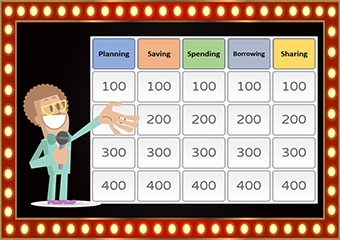 Participate in a trivia-style game, examining concepts of budgeting, saving, sharing, borrowing, and interest, and discover related financial vocabulary.
RECOMMENDED FOR AGES 5-8
Customized, focused discussion on topics will take place based on game outcome.
To create the optimal experience, each session is limited to 100 participants.
Upcoming dates and times:
Thursday, October 19 10:00 AM - 10:45 AM
Thursday, November 2 10:00 AM - 10:45 AM
This online webinar is also available for private coordination for schools, groups, businesses and community organizations. Please contact us to learn more.