Broadview Pays Tribute to Veterans With "Stand to Honor" Event and Donates $35,000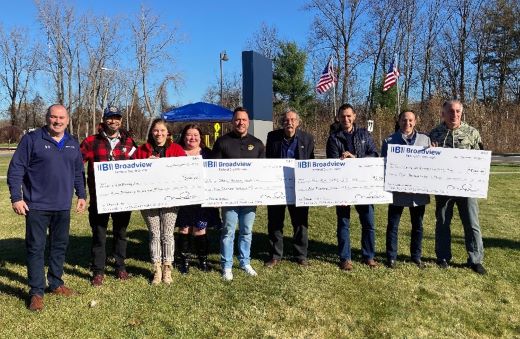 November 10, 2022
(Albany, NY) In honor of Veterans Day, Broadview employees, veterans, and special guests from Capital Region nonprofits gathered outside the credit union's corporate headquarters to show gratitude and provide financial support to those who have served our country in the armed forces.
Formed through the recent merger of SEFCU and CAP COM, Broadview has a longstanding commitment to supporting veterans and veteran-related causes in the Capital Region and across New York State. Today's "Stand to Honor" Ceremony began at 8:30 a.m. and will continue until the branch closes.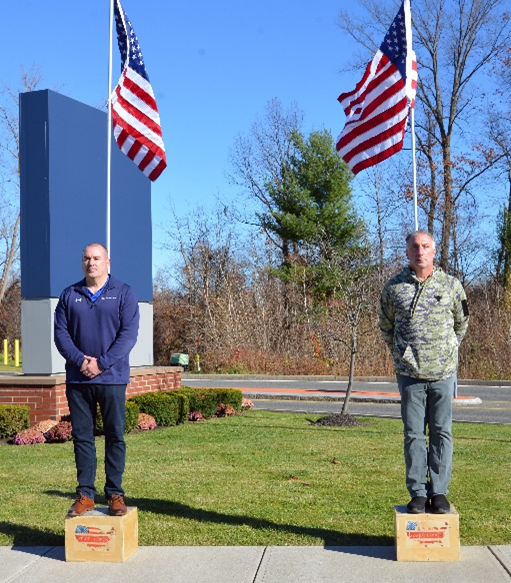 Throughout the day employees and volunteers, including including Broadview President Chris McKenna and CEO Michael Castellana (pictured from left to right), stood silently in pairs for 13 minutes. The number 13 represents the number of folds of the American Flag given to the family of a fallen service member.
"It's a very emotional thing. It's not just standing still for 13 minutes. When you put your feet on the footprints of soldiers who gave the ultimate sacrifice, who are no longer here, it is something that moves you," said Broadview CEO Michael Castellana. "We couldn't be here if it wasn't for the sacrifice of millions of people that put their own personal lives aside to protect our freedoms. Every day should be Veterans Day. Today we just go a little bit further than we always do."
As an expression of that support and commitment to helping veterans, Broadview presented $35,000 in donations to nonprofit veteran-related organizations in the Capital Region, Central, and Western New York.
$5,000 donations were made to:
"We issue out about 32,000 items a year to veterans in need, and it's thanks to community partners like Broadview Federal Credit Union that we're able to do things like this," said Stratton VA Medical Center Voluntary Service Specialist Erwin Dominguez. Dominguez said the Stratton VA Food Pantry serves approximately 6,000 veterans annually, and Broadview's donation will support the purchase of boots, thermals, and food for vets in need.
The Stand to Honor ceremony is the culmination of several veterans-related events Broadview has supported this fall. In early October, Broadview employee volunteers attended a "Hug Mug" volunteer night during which employees designed mugs for deployed soldiers to help improve their mental health. Additionally, Broadview branch employees have been writing letters with words of comfort and encouragement that will be sent to deployed soldiers during the holiday season.
About Broadview Federal Credit Union
Broadview is among the largest credit unions in New York state with more than $8 billion in assets, more than 500,000 members, and more than 60 branches in the Capital Region, Binghamton, Syracuse, and Buffalo. Broadview was formed in 2022, when SEFCU and CAP COM merged, unlocking a unique opportunity to build on decades of service and expertise from both credit unions by creating a people-first organization with the scope, scale, and vision to carry that shared legacy proudly forward.